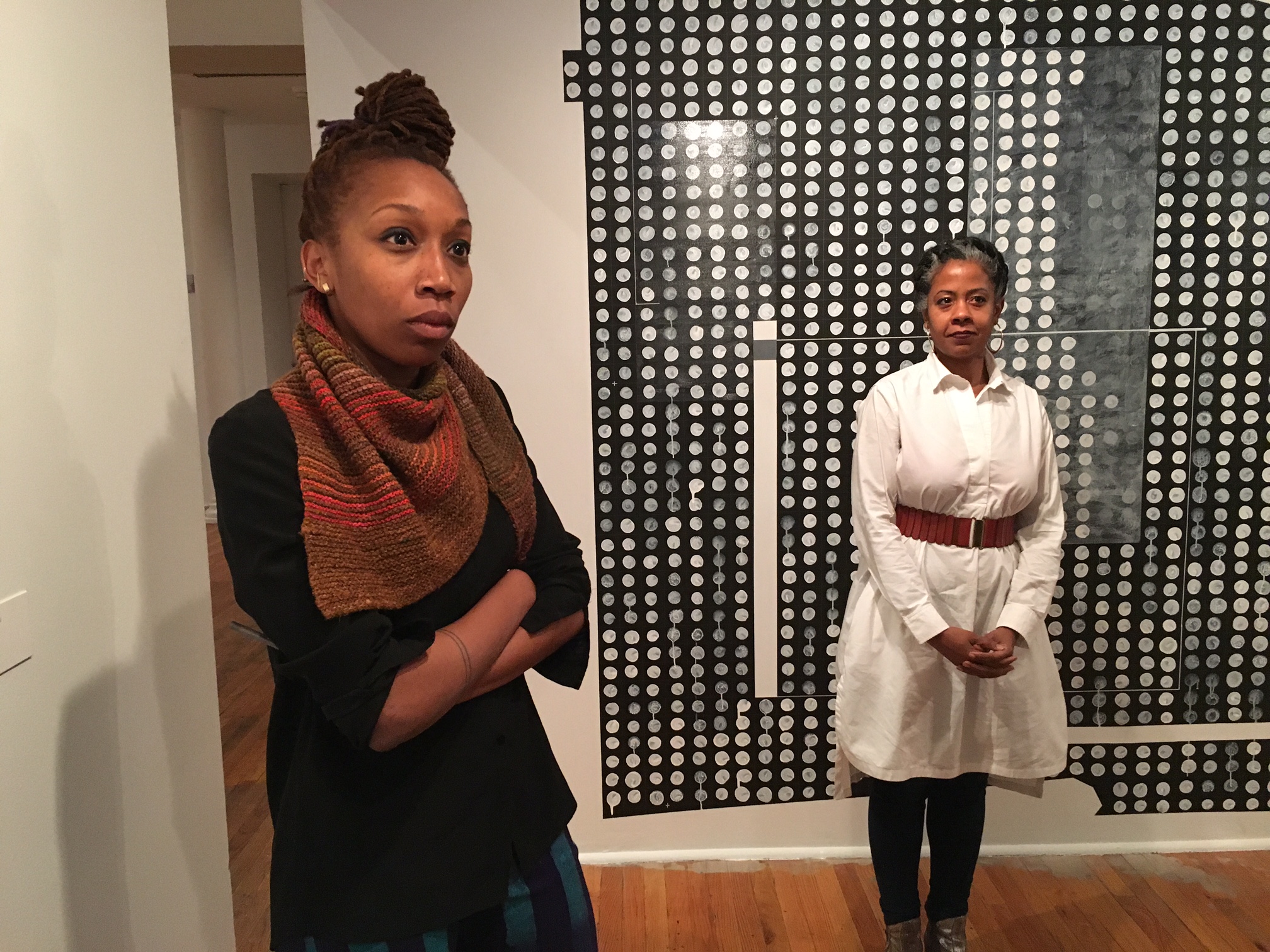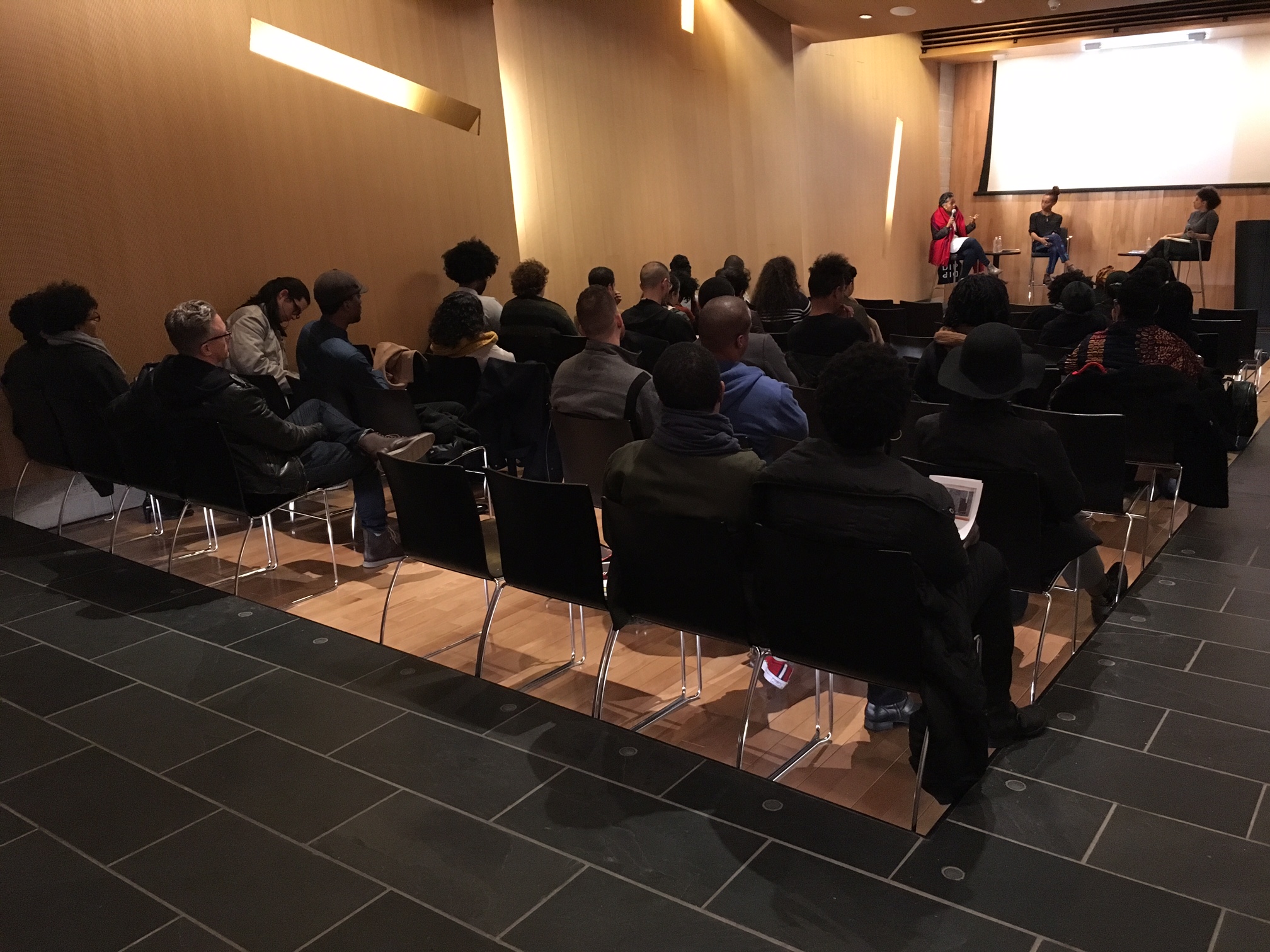 The Artist's Voice puts exhibiting artists in conversation with prominent voices from other fields, allowing each to more deeply discuss the scope of the exhibition in relation to broader, cultural concerns. On the occasion of A Constellation, this artist talk invites exhibiting artists Torkwase Dyson and ruby onyinyechi amanze to explore black spatial dynamics, geographic materiality and the ways narrative and biography are constructed and situated within African, diasporic communities. Moderated by Kimberli Gant, Mellon Curatorial Fellow in the Department of Arts of Global Africa at the Newark Museum and PhD candidate at the University of Texas Austin, our panel will forge connections to fields beyond visual art, further unpacking the role abstraction and fiction can play in offsetting the temporal and narrative prescriptions of the everyday.
Torkwase Dyson mines the history of geometric abstraction to address ways in which objects and architecture impact and influence human spatial conditions. Creating aerial compositions with expressive grids, shapes, lines and marks, Dyson merges the language of architecture and landscape architecture to deconstruct places and objects until they are unrecognizable. Her idiosyncratic language renders new schematics for her subjects to explore ideas of proximity, density, production, excess, systems and geography. Dyson has exhibited at Franconia Sculpture Park, the Whitney Museum of American Art, the Corcoran College of Art and Design, the Schuylkill Center for Environmental Education and the Smithsonian National Museum of African Art. She was awarded the Nancy Graves Grant for Visual Artists, Spelman College Art Fellowship, Brooklyn Arts Council grant, Yale University Barry Cohen Scholarship, the Yale University Paul Harper Residency at Vermont Studio Center, Culture Push Fellowship for Utopian Practices, FSP/Jerome Fellowship and Yaddo. Dyson is based in Brooklyn, New York and was appointed lecturer in Painting/Printmaking at Yale in 2015.
ruby onyinyechi amanze is a visual artist whose practice centers around drawing and works on paper. In a non-linear and open narrative, her drawings explore space as a malleable construct, the freedom to play as revolutionary and cultural hybridity as a mundane norm. In 2004, amanze earned her BFA, Summa Cum Laude, from Tyler School of Art, Temple University, and her MFA from Cranbrook Academy of Art, Bloomfield Hills, Michigan in 2006. From 2012–2013, amanze was the recipient of a Fulbright Scholars Award in Drawing to the University of Nigeria, Nsukka. She recently concluded the 2014–2015 Workspace Program with Lower Manhattan Cultural Council, was a 2015 summer recipient for the Fountainhead Residency in Miami and is currently an Artist-in-Residence at the Queens Museum, NY. amanze has exhibited her work internationally in New York, Johannesburg, Miami, London and Lagos.
Kimberli Gant is the Mellon Curatorial Fellow in the Department of Arts of Global Africa at the Newark Museum. She is also a PhD candidate at the University of Texas Austin pursuing research on photographic depictions of Lagos, Nigeria. Kimberli's has curated exhibitions at The Contemporary Austin (2012), UT's Warfield Center for African & African Diaspora Studies (2013), Deutsche Bank America in New York (2010) and the Museum of Contemporary African Diasporan Art (MoCADA) in Brooklyn, New York, where she was the Curator of Exhibitions and Public Programs (2005–2010). She also recently completed the Center for Curatorial Leadership's inaugural Mellon Foundation Seminar in New York (2014) Gant's work has been published in academic books and exhibition catalogues for The Contemporary Austin,The Studio Museum in Harlem and the Centre for Contemporary Art Lagos.