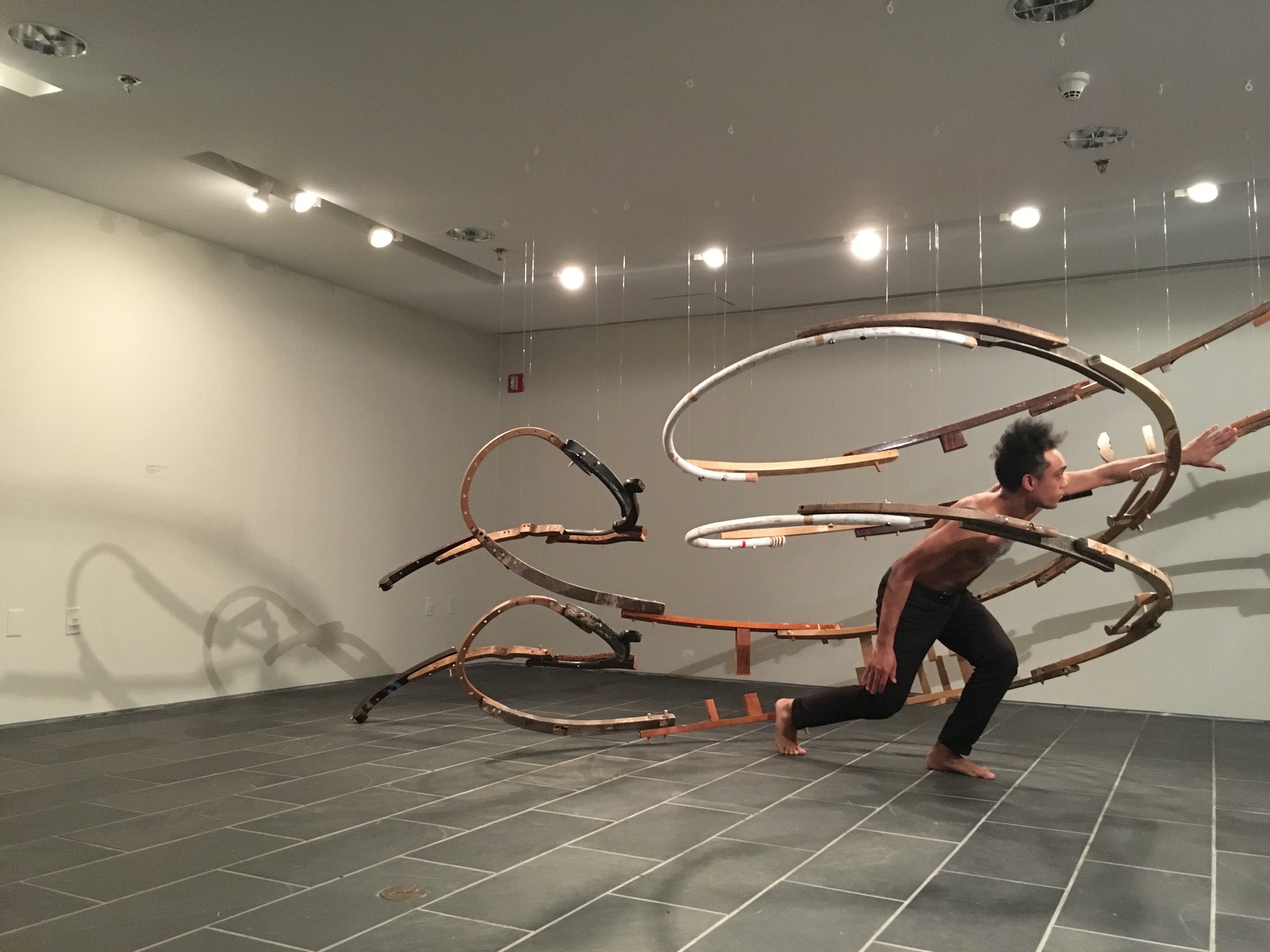 On the occasion of Marc Andre Robinson's project space exhibition Twice Told, the Studio Museum invites artist Zachary Fabri to dialogue with this site-specific installation. Expanding upon Robinson's decade-long interest in chairs—specifically for their intimate connection to their users, and ability to carry traces of those who have used them—Fabri will use performance as a tool to critically engage with the embedded energies within what Robinson describes as "the living object." He will explore their shared interest in W.E.B. Du Bois's theory of double consciousness, beginning with a reading from Manning Marable's biography, Malcolm X: A Life of Reinvention, and expand these ideas beyond their binary nature. Fabri will engage with a leg-less chair, perform text excerpts, and utilize them to choreograph movements which will activate a series of unlikely Museum spaces.
Marc Andre Robinson (b.1972) is a Brooklyn based artist recognized for sculpture, where he employs traditional carpentry techniques to formally and conceptually explore African-American culture and history through a contemporary lens. Specifically, Robinson considers the legacy of African-American oppression in American society and its contemporary counterpart in ongoing social rights issues. Composed of the back legs of chairs and suspended from the ceiling, Twice Told forms a winding path of symmetrical lines; a whip-like form that references social constructs—from slavery to police brutality—that have long perpetuated hierarchies and stereotypes. Through the twinned structure of the work, Robinson both incorporates W.E.B. Du Bois' theory of double consciousness and challenges it. The parallel lines of the sculpture never meet, much as Du Bois argues that the African-American psyche remains unreconciled. However, the many chair legs that compose each line challenge the universality of this theory and suggest the possibility of multiple perspectives. Born in Los Angeles, Robinson earned an MFA from the Maryland Institute College of Art in 2002. He participated in the Whitney Independent Study Program (2002–03) and was an artist in residence at The Studio Museum in Harlem (2004–05), the Lower Manhattan Cultural Council (2009) and The Rocktower in Kingston, Jamaica (2008).
Zachary Fabri (b. 1977) is an artist who addresses the relationship between the role of the individual and the integrity of community. Location and chance constitute critical elements in his interventions, where Fabri uses his body as a mediator between his conceptual ideas and the communities in which he presents them. His performances position him in the tradition of improvisional-theater, which happens without any forewarning or pre-staging, and has been used throughout the history of performance art to address political and social issues. Born in Miami, Zachary Fabri received his BFA in graphic design from New World School of the Arts in Miami in 2000. He continued his studies at Hunter College, where he received an MFA in 2007. Awards include The Louis Comfort Tiffany Foundation Award, the Franklin Furnace Fund for Performance Art and the New York Foundation for the Arts fellowship in interdisciplinary work. He is currently in the Artist Studio Program at Smack Mellon in Brooklyn.